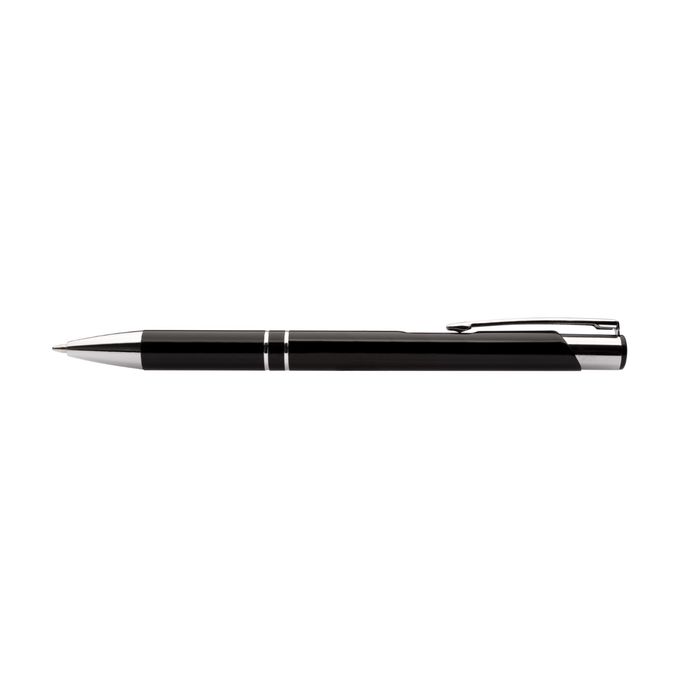 Customised Pens
Best for engraving of text and simple images (outlines), not for filled and complex images

Ballpoint pen with metal body & blue ink colour

Customisation technology: Laser engraving

Engraved text will be in white
To add Text:
Select the 'Upload your design' box in the studio and delete the box

Select 'Text' option in the toolbar

Click on 'Add New Text Field' on desktop and 'Text' on Mobile

For best engraving results:
Choose font size 9 and above. Bigger font leads to clearer & better output.

Check the preview to verify that your uploaded design is proper
Cash on Delivery available
Price below is MRP (inclusive of all taxes)
Personalized Pens – A perfect gift for friends, family, clients and co-workers
There is something special about writing from a pen with your name on it. They are one of those rare items which make for a timeless gift. Whether you are buying a engraved pen as a birthday gift or for teacher's day, celebrating someone's new job or giving it as a farewell present, it makes a great gifting option for any occasion. You might have noticed that many doctors, lawyers, corporate offices, or prominent public figures either use customized pens or company logoed pens. Having pens printed with company names or logos is a great way of advertising your brand or business in an economical manner. Personalized pens are also great promotional tools to spread the word about your name or business.
Ordering personalized gifts pen from Vistaprint is very easy. Once you have selected the body color and finish of the pen you want, you can start designing it. Simply add any name, logo, quote or image to your customized pen and choose the font style and size along with its placement on the pen. If you want to add an image, try to use an outline image and not a complex or filled image. In case you wish to upload your own design then you can do that too. You can preview the design before placing the order. Your preview would indicate how the final product will look like. Remember to upload the design in an acceptable file format. Vistaprint provides pen name printing services at affordable prices. Vistaprint uses laser technology for engraving name, text, logo or image on the pen.
FAQ– Frequently Asked Questions
Q: How can I customize my engraved pen?
A: After you have selected the pen finish and color, you can start designing your personalized pen. Start by writing your name, any message, logo or photo on the pen. Choose the font size and type in the next step. Moreover, it is possible to upload your own design if you want.
Q: What is the ideal font size that should be printed on the personalized pen?
A: The ideal font size that should be printed on the pen is 9 and above. Avoid selecting smaller font size. The bigger the font size, the better will be the quality of the text printed. Bigger font makes the final output clear and precise.
Q: What is the pen finish and color options available?
A: Vistaprint offers two pen finishes namely metallic and matte. There are five color options available for customized pens which are ocean blue, burgundy, gunmetal, black and pink.
Q: What would be the appearance of my personalized pen?
A: Your engraved pen will be a ballpoint pen with metal body and blue ink color. The engraved text, quote or image on the pen will be in white color.
Q: What is the size and weight of the customized pen?
A: The length of the customized pen with name will be 13.8 cm with diameter of 0.9 cm. The weight of the pen will be 17.8 grams.
Q: What is ink colour of the customized pen?
A: The ink colour of the customized pen will be blue.
Q: Can we upload a photographic image?
A: We do not recommend upload of photographic image as the output will not be satisfactory.
Additional Information
| | |
| --- | --- |
| Generic Name | Pens |
| Product Dimensions(l*w*h) | 13.8 cm x 1 cm x 0.8 cm |
| Package Dimensions (l*w*h) | 14.5 cm x 2 cm x 1.3 cm |
| Item Weight | 17.8 g |
| Material | Metal |
| Color | Ocean Blue, Burgundy, Gunmetal, Black |
| Ink Color | Blue |
| Item Shape | Cylindrical |
| Included Components | Pen |
| Name and Address of the Packer | Cimpress India Private Limited, c/o Renaissance Infrastructure, Building B III, Vashere, Bhiwandi, Thane 421 302. Maharashtra. India. |
| Delivery and shipping | Estimated Delivery/Arrival time will be calculated at Shipping Stage |
| Terms of Returns, Refund & Grievance Officer details | Click Here |
| Registered Office and Branch Locations | Mumbai, Thane (Vashere), Bangalore, Ahmedabad |
| Legal Name of Entity | Cimpress India Private Limited |
Vistaprint India customizes all its products in facilities located within India. Some of our raw materials, intermediate components, and consumables used in the manufacturing of the final product could be from one or more countries.
As we follow Global Sourcing, one product is likely to have a different country of origin depending on the batch sold.
Country of origin: India